News
9/5/14
Here's a video from my show in Bogota!


7/18/14
Buenas! I'm in Bogota, Colombia for about a month and will be playing a solo show on Sat. Aug. 2nd. Check it out:
Smoking Molly
Calle 29 Bis #5-24
Bogota, Colombia
Saturday, Aug. 2nd
9pm
Send people my way if there are in the area...
---
5/14/14
Sup! Got a few new shows coming up this Summer and few fun things in the pipeline. For now though, look at this old video of the band rocking some Shakedown!

3/20/14
It's still Winter. Whaa.
Shows this Saturday with Cliff and Liz and some full band action at the Asgard in a few weeks on Sat. April 5th.
Please Sun, won't you come out to play?


---
2/6/14
Blue James Band Ski Week! We will be skiing during the day and rocking in the afternoon. Life is good. Come see us play. It's fun.

Sat. 2/15 - Cranmore Mtn - N. Conway, NH
Sun. 2/16 - Attitash Mtn - Bartlett, NH
Wed. 2/19 - Cranmore Mtn - N. Conway, NH
Thurs. 2/20 - Stratton Mtn - Stratton, VT
Fri. 2/21 - Salt Hill Pub - Lebanon, NH

---
10/29/13
Show this Friday, Nov. 1st at the Woodstock Inn in Woodstock, NH in celebration of Dia de los Muertos!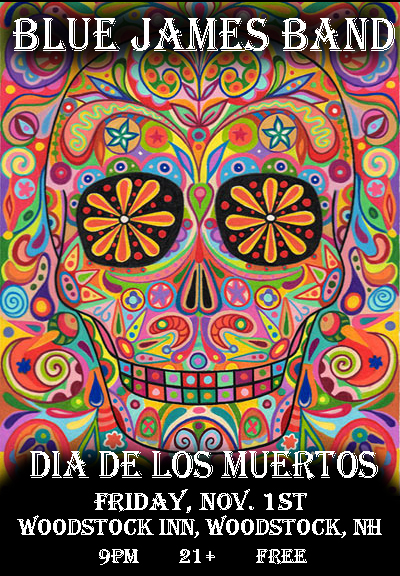 9/25/13
Good times last weekend! We had the bass master Anthony Wellington sit in with us for a few tunes at our gig on Saturday. Check out the video of I Can Relate:
And this one too of a lil Bob medley:
5/22/13
Hello friends! We have some fun shows coming up this week:
Fri. 5/24 - Sea Dog Brewery - Woburn, MA
Sat. 5/25 - The Asgard - Cambridge, MA
Be there!

---
3/20/13
BJB playing this weekend in Salem, MA and next weekend in Glenn, NH!
In the meantime, check out what The Noise magazine said about our new record:
"It is through Give Me the Love or Give Me the Fight, the third offering from Blue James Band, that the carefree, combined energy of California's Beachwood Sparks, Smile, and even Robert Randolph & the Family Band is immediately apparent. Positive vibes ooze from the record and bright, cheerful moments are in abundance throughout. There is noticeable diversity and depth to each composition, something that only serves to add to the band's credibility". (Julia R. DeStefano)
---
2/4/13
Yes! Great weekend at Sugarloaf in Maine. Lots of music and skiing/boarding. This week we head to Vermont and next week to New Hampshire.


---


1/8/13
Lots of shows coming up in 2013! We are hitting some of the ski slopes in the Northeast. See the shows page for the deets.
Hey, did you hear we released a new album? Check it ---->
---

12/4/12
BJB is now a member of the Homegrown Music Network!




Click the link to check out the site and see all of the other great bands that are affiliated with this company.

---

11/21/12
Happy Thanksgiving! Our new album Give Me the Love or Give Me the Fight is doing quite well! Thanks to everyone who has supported us by buying our music. If you don't have the album yet then go to the store page to buy it from iTunes or directly from us.
Check out the reviews of the new record on the press page.

In the meantime, check out this new video of Clifton playing music in a cab in London. Fun!



---

9/25/12
Good day people. Our new album, Give Me the Love or Give Me the Fight, has officially dropped! Did you hear it?

Go to our music page and listen to it now!

Visit the store to buy the album directly from us!

Listen to a few songs from the new album HERE






---
7/23/12
Our New album is called "Give Me the Love or Give Me the Fight" and it will be available at our shows beginning in August. The rest of the world can buy it in September so come on out to the shows to get your copy early!
Check out the music page to hear 2 songs from the album. Free download coming soon.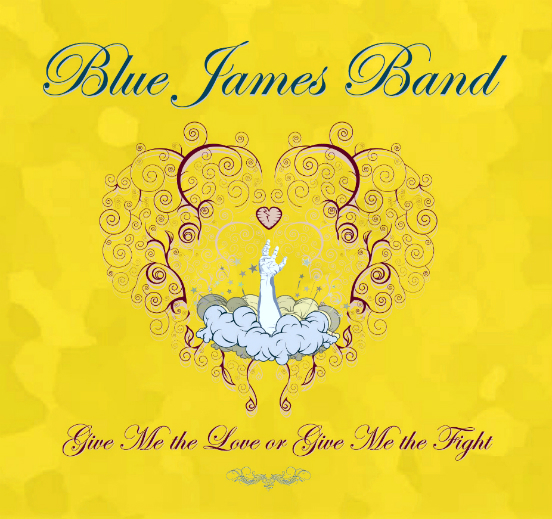 ---
6/2/12
Summer shows are filling up! England tour for Clifton and then the full Blue James Band will be heading South for the Summer! Check them and keep updated as many more will be announced in the coming week.

As always please stay tuned to our
page for updates.
---
5/10/12
Gearing up for some shows in the last part of Spring while the album is being mixed. We are also gearing up for our big summer tour which we'll announce soon. England will be getting some love again as well as the South!

Check out the shows page for more details and please stay tuned to our
page for updates.
---
2/8/12
BJB's new album is wrapping up people! Liz was just recording some pedal steel, sax, and background vocs this morning at the beach house studio. Sounding good...I think y'all are gonna dig it.

Shows coming up in February and we are begining our booking push now that the "still untitled new album" get shipped off to be mixed. Spread the word about the shows and the new music
---

1/16/12
Shows this week in Hartford CT, Fairfield CT, and Lebanon NH! Check out the shows page for the info and listen to us play live on the Modern Problems Radio radio show ( modernproblemsradioshow.com ) on Thursday night at 8pm EST.
---